ESL Electronic Shelf Labels
Product Detail
Product Tags
What is ESL Electronic Shelf Labels?
ESL Electronic Shelf Labels is an intelligent display device placed on the shelf that
can replace traditional paper price labels. Each ESL Electronic Shelf Label can be
connected to a server or cloud through network, and the latest products information
(such as price, etc.) is displayed on the screen of the ESL Electronic Shelf Labels. 
ESL Electronic Shelf Labels enable price consistency between checkout and shelf.
Common Application Areas of E-ink Digital Price Tags
Supermarket
Promotion is an important means for supermarkets to attract customers into the store for consumption. The use of traditional paper price labels is labor-intensive and time-consuming, which limits the frequency of supermarket promotions. The E-ink digital price tags can realize remote one-click price change in the management background. Before discounts and promotions, supermarket employees only need to change the price of the product on the management platform, and the E-ink digital price tags on the shelf will be automatically refreshed to quickly display the latest price. The rapid price change of E-ink digital price tags has significantly improved the management efficiency of commodity prices, and can help supermarkets to achieve dynamic pricing, real-time promotion, and strengthen the store's ability to attract customers.
Fresh Food Store
In fresh food stores, if traditional paper price tags are used, problems such as wetting and falling are prone to occur. The waterproof E-ink digital price tags will be a good solution. Besides, E-ink digital price tags adopts E-paper screen with a viewing angle of up to 180°, which can display the product price more clearly. E-ink digital price tags can also adjust prices in real time according to the actual situation of fresh products and consumption dynamics, which can give full play to the driving effect of fresh product prices on consumption.
Electronic Store
People are more concerned about the parameters of electronic products. E-ink digital price tags can independently define the display contents, and E-ink digital price tags with larger screens can display more comprehensive product parameter information. E-ink digital price tags with uniform specifications and clear display are visually beautiful and tidy, which can establish a higher-end storefront image of electronic stores and bring customers a better shopping experience.
Chain Convenience Stores
General chain convenience stores have thousands of stores across the country. Using E-ink digital price tags that can remotely change prices with one click on the cloud platform can realize synchronous price changes for the same product across the country. In this way, the headquarters' unified management of store commodity prices becomes very simple, which is beneficial to the headquarters' management of its chain stores.
In addition to the above retail fields, E-ink digital price tags can also be used in clothing stores, mother and baby stores, pharmacy, furniture stores and so on.
E-ink digital price tag successfully integrates the shelves into the computer program, getting rid of the situation of manually changing the normal paper price labels. Its fast and intelligent price change method not only liberates the hands of retail store employees, but also improves the work efficiency of employees in the store, which is beneficial to merchants to educe operating costs, improve operating efficiency, and allow consumers to get a new shopping experience.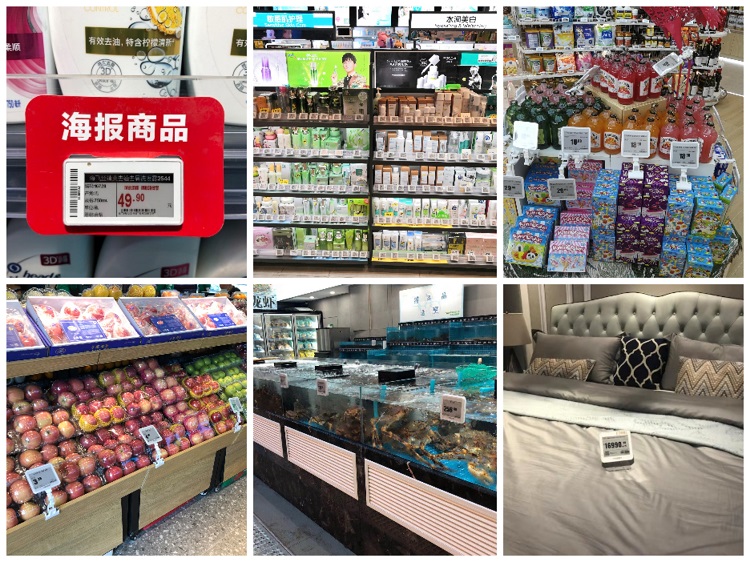 Advantages of 2.4G ESL Compared to 433MHz ESL
| | | |
| --- | --- | --- |
| Parameter | 2.4G | 433MHz |
| Response Time for Single Price Tag | 1-5 seconds | More than 9 seconds |
| Communication distance | Up to 25 meters | 15 meters |
| Number of Base Stations Supported | Support multiple base stations to send tasks at the same time (up to 30) | One only |
| Anti-stress | 400N | <300N |
| Scratch Resistance | 4H | <3H |
| Waterproof | IP67 (optional) | No |
| Languages and Symbols Supported | Any languages and symbols | Only a few common languages |
2.4G ESL Price Tag Features
● 2.4G working frequency is stable
● Up to 25m communication distance 
● Support any symbols and languages
● Fast refresh speed and low power consumption.
● Ultra-low power consumption: power consumption is reduced by 45%, system integration is increased by 90%, and refreshes more than 18,000pcs per hour
● Ultra-long battery life: No need to replace the batteries frequently. Under full scene coverage (such as refrigerated, normal temperature), the service life can reach 5 years
● Three-color independent LED function, temperature and power sampling
● IP67 protection grade, waterproof and dustproof, excellent performance, suitable for various harsh environments
● Integrated ultra-thin design: thin, light and strong, perfectly suitable for various scenes 2.5D lens, transmittance is increased by 30%
● Multi-color real-time flashing status interactive reminder, 7-color flashing lights can help quickly locate products
● Surface anti-static pressure can withstand maximum 400N 4H screen hardness, durable, wear-resistant and scratch-resistant
ESL Price Tag Working Principle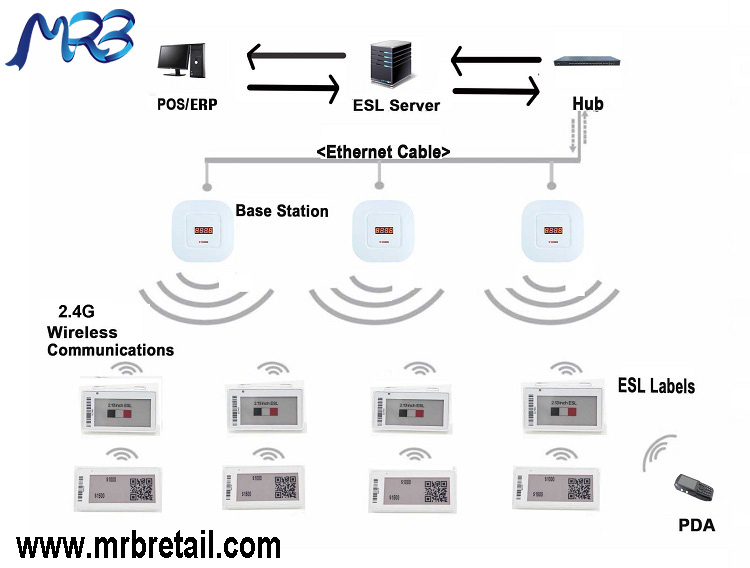 FAQ of ESL Electronic Shelf Labels
1. Why Use ESL Electronic Shelf Labels?
  ●The price adjustment is fast, accurate, flexible and efficient;
  ●Data verification can be performed to prevent price errors or omissions;
  ●Modify the price synchronously with the background database, keep it consistent with the cash register and price inquiry                          terminal;
  ●More convenient for the headquarters to manage and monitor every store effectively;
  ●Effectively reduce manpower, material resources, management costs and other variable costs;
  ●Improve store image, customer satisfaction, and social credibility;
  ●Lower cost: In the long run, the cost of using ESL electronic shelf labels is lower.
2. Advantages of E-paper Electronic Shelf Labels
E-paper is the mainstream market direction of electronic shelf labels. The E-paper display is a dot matrix display. Templates can be customized in the background, it supports the display of numbers, pictures, barcodes, etc., so that consumers can more intuitively see more product information to make choices quickly.
Features of E-paper Electronic Shelf Labels:
  ●Ultra-low power consumption: the average battery life is 3-5 years, zero power consumption when the screen is always on, power             consumption is only generated when refreshing, energy saving and environmental protection
  ●Can be powered by batteries
  ●Easier to install
  ●Thin and flexible
  ●Ultra-wide viewing angle: the viewing angle is almost 180°
  ●Reflective: no backlight, soft display, no glare, no flicker, visible in sunlight, no blue light damage to eyes
  ●Stable and reliable performance: long equipment life.
3. What are the E-ink colors of Electronic Shelf Labels?
The E-ink color of Electronic Shelf Labels can be white-black, white-black-red for your choice.
4. How many sizes are there for your electronic price tags?
There are 9 sizes of electronic price tags: 1.54", 2.13", 2.66", 2.9", 3.5", 4.2", 4.3", 5.8", 7.5". We can also customized 12.5" or other sizes based on your requirements. 
12.5" Digital Shelf Tag will be ready soon
5. Do you have ESL price tag that can be used for frozen food?
Yes, we have 2.13" ESL price tag for frozen environment (ET0213-39 model), which is suitable for -25~15℃ operating temperature and 45%~70%RH operating humidity. The display E-ink color of  HL213-F 2.13" ESL price tag is white-black. 
6. Do you have waterproof digital price tag for fresh food stores?
Yes, we have waterproof 4.2-inch digital price tag with IP67 waterproof and dustproof level.
The waterproof 4.2-inch digital price tag is equal to the ordinary one plus a waterproof box. But the waterproof digital price tag has a better display effect, because it will not produce water mist.
The E-ink color of the waterproof model is black-white-red.
7. Do you provide ESL demo/test kit? What are included in the ESL demo/test kit?
Yes, we provide. ESL demo/test kit includes 1pc of each size electronic price tags, 1pc base station, free demo software and some installation accessories. You can also choose different price tag sizes and quantities as you need.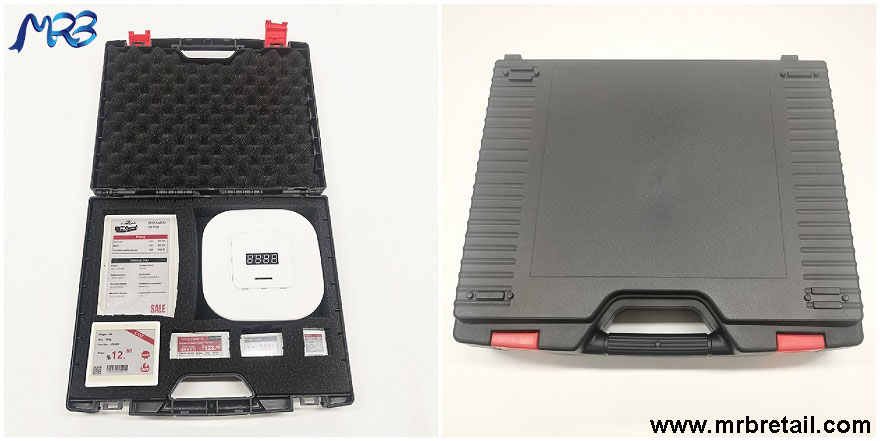 8. How many ESL base stations need to be installed in a store?
One base station has 20+ meters coverage area in radius, as the below picture shows. In open area without partition wall, the coverage range of base station is wider.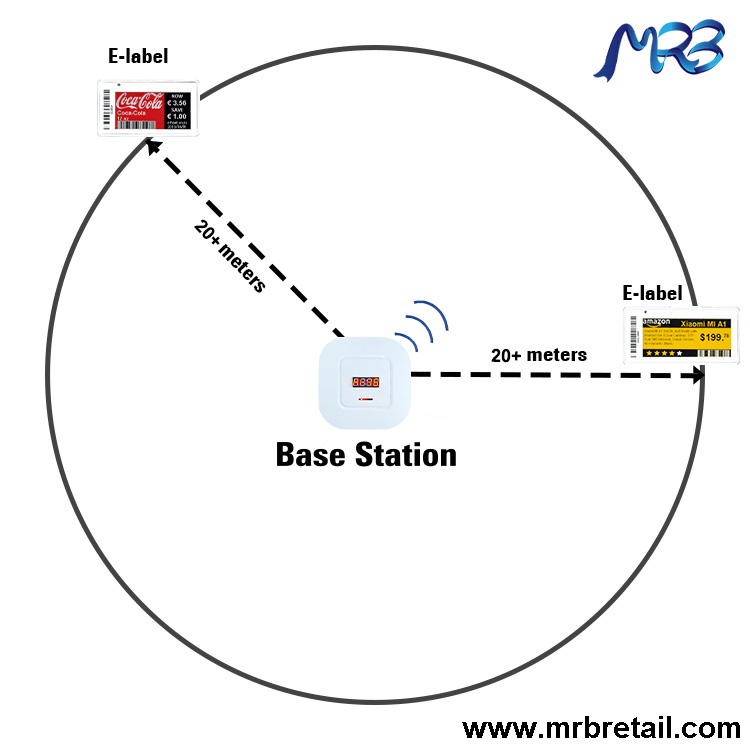 9. Where is the best location to install the base station in the store? 
Base stations are usually mounted on the ceiling to cover wider detection range.
10. How many electronic price tags can be connected to one base station?
Up to 5000 electronic price tags can be connected to one base station. But the distance from the base station to every electronic price tag must be 20-50 meters, which depends on the actual installation environment.
11. How to connect base station to network? By wifi?
No, base station is connected to network by RJ45 LAN cable. Wifi connection is not available for base station.
12. How to integrate your ESL price tag system with our POS/ ERP systems? Do you provide free SDK/ API?
Yes, free SDK/ API is available. There are 2 ways for integration with your own system (such as POS/ ERP/ WMS systems):
  ●If you want to develop your own software and you have strong software development capability, we recommend you to integrate               with our base station directly. According to the SDK provided by us, you can use your software to control our base station and                 modify the corresponding ESL price tags. In this way, you do not need our softwares.
  ●Buy our ESL network software, then we will provide you with free API, so that you can use the API to dock with your database.
13. What battery is used to power the electronic price tags? Is it easy for us to find the battery in local and replace it by ourselves?
CR2450 button battery (non-rechargeable, 3V) is used to power electronic price tag, the battery life is about 3-5 years. It is very easy for you to find the battery in local and replace the battery by yourself.                 

14. How many batteries are used in each size ESL price tag?
The larger the size of ESL price tag, the more the batteries required. Here I list the number of batteries required for each size ESL price tag:
1.54" digital price tag: CR2450 x 1
2.13" ESL price tag: CR2450 x 2
2.66" ESL system: CR2450 x 2
2.9" E-ink price tag: CR2450 x 2
3.5" digital shelf label: CR2450 x 2
4.2" electronic shelf label: CR2450 x 3
4.3" pricer ESL tag:CR2450 x 3
5.8" E-paper price label: CR2430 x 3 x 2
7.5" electronic price labelling: CR2430 x 3 x 2
12.5" electronic price tag: CR2450 x 3 x 4
15. What is the communication mode between base station and electronic shelf labels?
The communication mode is 2.4G, which has stable working frequency and long communication distance.
16. What installation accessories do you have to install ESL price tags?
We have 20+ kinds of installation accessories for different sizes of ESL price tags.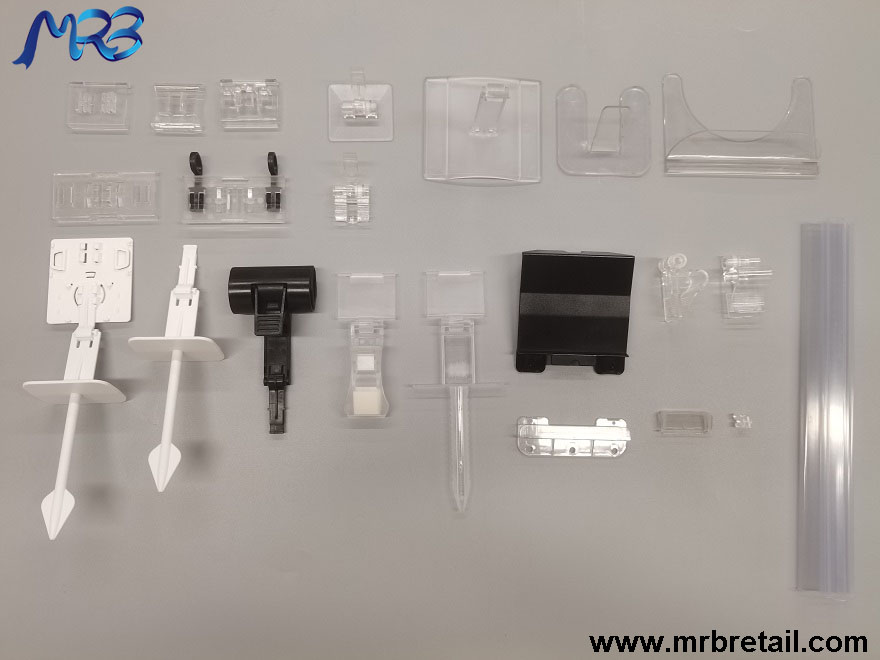 17. How many ESL price tag softwares do you have? How to choose the suitable software for our stores?
We have 3 ESL price tag softwares (neutral):
  ●Demo software: Free, for testing ESL demo kit, you need to update the tags one by one.
  ●Standalone software: Used to adjust the price in each store respectively.  
  ●Network software: Used to adjust the price in head office remotely. Can be integrated into POS/ERP system, and then update the               price automatically, free API available.
If you only want to update the price in your single store locally, standalone software is suitable.
If you have many chain stores and you want to update the price of all the stores remotely, network software can meet your requirements.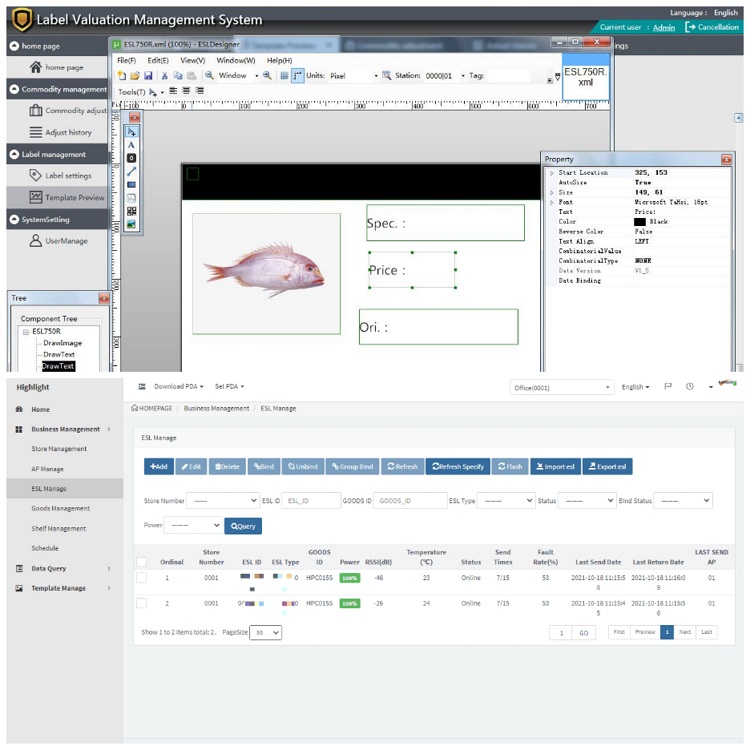 18. What about the price and quality of your ESL digital price tags?
As one of the main ESL digital price tags manufacturers in China, we have ESL digital price tags with very competitive price. Professional and ISO certified factory guarantees high quality of ESL digital price tags. We have been in ESL area for years, both ESL product and service are mature now. Please check the below ESL manufacturer factory show.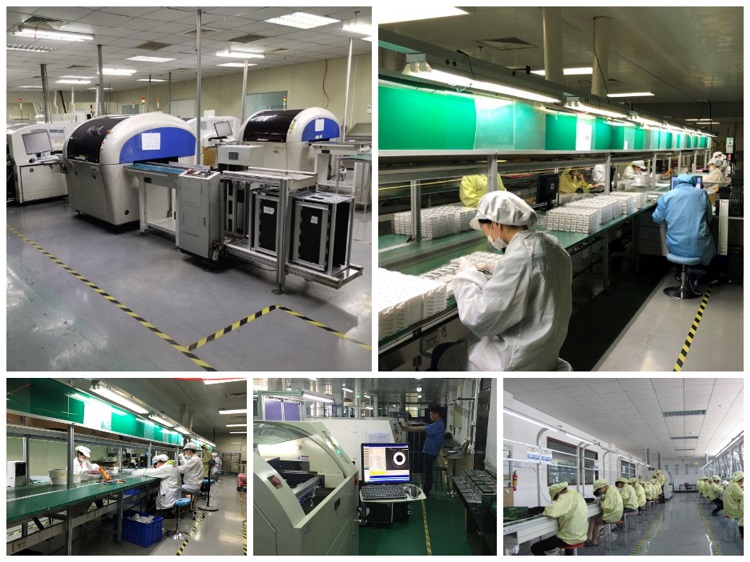 ---
Previous:
MRB Electronic shelf label system HL213
---