MRB ESL label system HL750
Product Detail
Product Tags
Because our ESL label system is very different from others' products, we do not leave all product information on our website to avoid being copied. Please contact our sales staff and they will send you the detailed information.
ESL label are wireless data receivers with identification codes. They can restore the received RF signals to valid digital signals and display them. It is an electronic device that can be placed on the shelf and can replace traditional paper price labels. Display device, each ESL label is connected to the computer database of the mall through the network, and the latest commodity price and other information are displayed on the screen on the ESL Label.
1. Price control: ESL labels ensure that information such as commodity prices in physical stores, online stores, and APPs are kept in real-time and highly synchronized, and solves the problem of frequent online promotions that cannot be synchronized offline and frequent price changes in a short period of time.

2. Efficient display: ESL labels is integrated with the in-store display management system to effectively solidify the display position in the store, guide the store staff to display the goods, and also provide convenience for the headquarters to conduct the display inspection, and the entire process is paperless, efficient, accurate and green.
3. Store delivery picking: ESL label system meets picking scenarios through the combination of back-end system and hardware, and combines the display layout to provide store personnel with a visualized optimal picking route, optimize the store picking process, and efficiently improve picking efficiency.
4. Smart fresh food: ESL labels solve the problem of frequent price changes in key fresh parts of stores, and can display inventory information, complete efficient inventory of single products, optimize store clearing procedures, and monitor clearing data.
5. Precision marketing: Complete multi-dimensional behavioral data collection of users through ESL labels, analyze data to label users, improve user portrait models, and facilitate the subsequent accurate push of corresponding marketing advertisements or services through multiple channels according to consumer preferences information.
| | |
| --- | --- |
| Size | 131mm(V) *216mm(H)*9mm(D) |
| Display color | Black, white, yellow |
| Weight | 239g |
| Resolution | 640(H)×384(V) |
| Display | Word/Picture |
| Operating temperature | 0~50℃ |
| Storage temperature | -10~60℃ |
| Battery life | 5 years |
We have many ESL labels for you to choose from, there is always one that suits you! Now you can leave your valuable information through the dialog box in the lower right corner, and we will contact you within 24 hours.
The new upgraded 2.4G 7.5" ESL Label System is ready now, with the following specifications: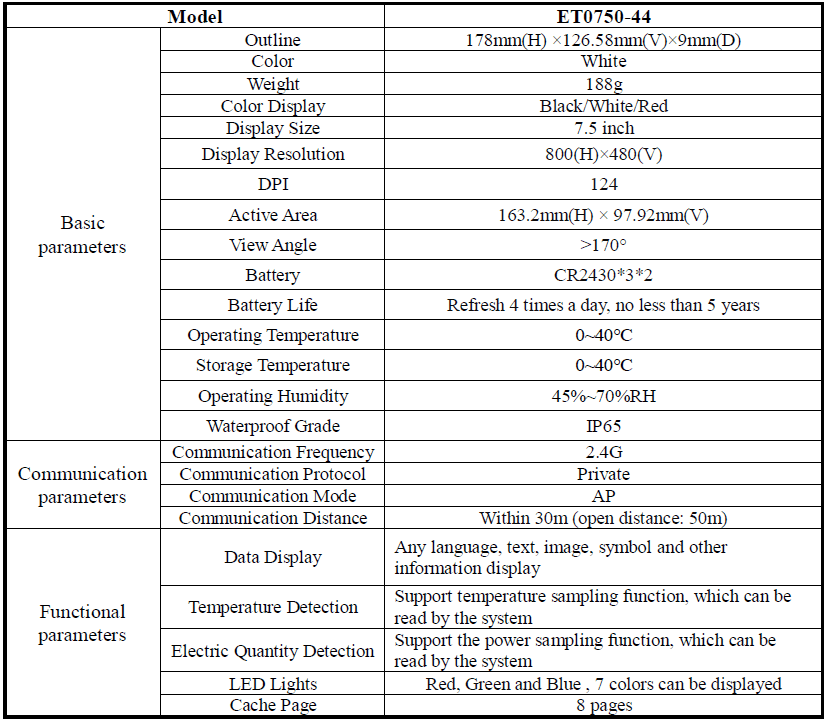 1. Is the 7.5 inch ESL label the largest ESL label on the market? If I need a bigger one, can you customize it?
7.5 inch ESL label is only one of the dimensions. At present, the maximum size we customize for customers is 11.6 inch. If you need a larger one, we can customize it for you.
2. How many base stations does a store need to serve the ESL label system?
This depends on the specific situation of the store. Generally speaking, a base station can transmit data to ESL labels 30 meters away. However, due to the shielding of fences and columns in the store, the signal value will be reduced. Therefore, specific problems should be analyzed. Theoretically, the number of ESL labels that can be connected to a base station is not limited.
3. Is the speed of ESL label modification fast?
We have different software, such as demo software, stand-alone software, Networking software, etc. different software has different data transmission time. The fastest is networking software, change 60 pcs ESL labels each time, around 10 seconds to finish the transmission.
4. What is the working frequency of ESL label?
As an ESL label manufacturer supplier, we provide customers with different frequencies to choose from, including 433MHz and 2.4G. We will also provide customers with suggestions to use different frequencies.
5. Your ESL label can display three different colors, right?
Yes, we can display black, white and red at the same time, or we can display black, yellow and white at the same time, or other colors can be customized.
6. Do you charge for the software of your ESL label system?
Our software is divided into many kinds, some are free, some are charged, and most of them are free to customers. Please consult our sales staff for details.
7. How do you fix an ESL label as large as 7.5 inch?
As an ESL label supplier manufacturer, we provide a variety of ESL label accessories for selection to fix different ESL labels. The links of ESL accessories are here: https://www.mrbretail.com/mrb-esl-accessories-product/ 
---
Previous:
MRB ESL price tag system HL290
---