MRB e ink price tag HL420
Product Detail
Product Tags
Usually what we call e ink price tag and e paper price tag are actually the same product, but they are called differently.
Because our e ink price tag is very different from others' products, we do not leave all product information on our website to avoid being copied. Please contact our sales staff and they will send you the detailed information.
This 4.2 inch ESL tag is often used in scenes such as large items and aquatic products.
E ink price tags are increasingly used in major stores. With the improvement of the intelligent level of the manufacturing industry, there is more and more demand for information collection and display networking technology. As e ink price tag has low power consumption and convenient information management, it is suitable for information display in shopping malls and supermarkets. The application in the supermarket field is becoming more and more extensive, especially the information monitoring and display of informatization and paperless applications, smart supermarket management applications, and the display content of e ink price tags are often controlled through wireless communication. At present, the real-time communication of e ink price tag is mainly based on technologies such as 433MHz.
The E ink price tag is placed in a special PVC guide rail (the guide rail is fixed on the shelf), and it can also be set in a variety of structures such as hanging, hooking or swinging. The E ink price tag system also supports remote control, and the headquarters can manage the unified price tagging of the commodities of its chain branches through the network. There are multiple pieces of information about the corresponding products stored inside, and the salesperson can conveniently check and check with the help of smart handheld terminal equipment.
Compared with traditional paper tags, e paper price tag has obvious advantages.
1. Data verification can be performed to prevent errors or omissions
2. E paper price tag has anti-theft and alarm functions
3. Ability to synchronize changes with the database
4. E paper price tag can reduce management loopholes, facilitate the unified management and effective monitoring of the central headquarters, thereby effectively reducing labor costs, management costs, etc.
5. E paper price tag will gradually become an industry trend because it abandons traditional paper tags and uses environmentally friendly and energy-saving materials, which can improve store image, customer satisfaction and social credibility for supermarkets, warehousing, logistics and other institutions.
| | |
| --- | --- |
| Size | 98mm(V) *104.5mm(H)*14mm(D) |
| Display color | Black,white,yellow |
| Weight | 97g |
| Resolution | 400(H)*300(V) |
| Display | Word/Picture |
| Operating temperature | 0~50℃ |
| Storage temperature | -10~60℃ |
| Battery life | 5 year |
We have many E paper price tag for you to choose from, there is always one that suits you! Now you can leave your valuable information through the dialog box in the lower right corner, and we will contact you within 24 hours.
The 433MHz technology of 4.2" e ink price tag has been upgraded to 2.4G, with the new specifications as follows: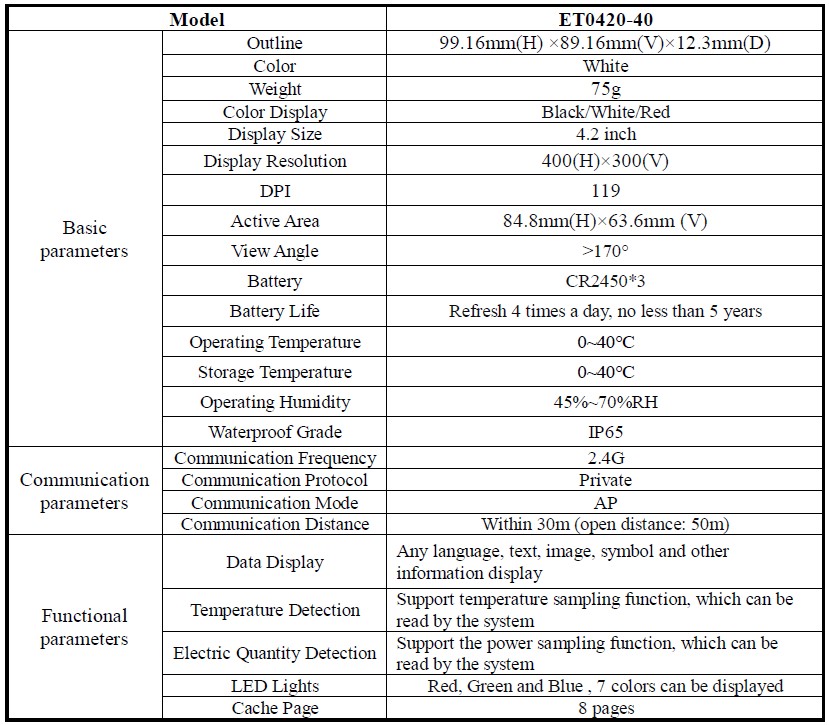 1.How many models are there for e ink price tag of 4.2 inch size?
There are two models. If it is used for ordinary goods, we will make an ordinary e ink price tag. If it is used for aquatic products or frozen products, we will make a waterproof e ink price tag
2. Is the battery used by the 4.2 inch e ink price tag bigger than that of the general e ink price tag?
The battery is the same, not big, and the same model is also an international button battery cr2450
3. I'm a reseller. Can you not display your MRB logo on e paper price tag?
As the e ink price tag manufacturer supplier, all e paper price tags delivered from our E ink price tag factory are in neutral packaging without our logo. We can also customize your logo for you and paste it on e paper price tag.
4. Can your e paper price tag display multiple colors?
We can display three colors at the same time. Black, white, yellow, black, white and red can be displayed normally.
5. I want to buy a set of demo samples of e paper price tag for testing. How long will it be available?
We have a large amount of inventory. After receiving the sample fee, we can deliver the goods immediately. At the same time, we can also consult the best freight for you.
6. What kind of software does e ink price tag have? How do you charge?
Our software is divided into demo beta software, stand-alone software and network software. Please contact my sales staff for consultation.
7. What size e ink price tag do you have? Is 4.2 inch the maximum size?
We have 1.54, 2.13, 2.9, 4.2, 7.5, 11.6 inch and even larger ones that can be customized. Welcome to contact us for consultation.
*For the details of other sizes ESL price tags please visit: https://www.mrbretail.com/esl-system/ 
---
Previous:
MRB ESL label system HL750
---